'Univers Poreux' exhibition
18/09/2019
The Univers Poreux exhibition was born first of all from our desire to make known the diversity of the work of researchers around porous solids by exposing them to the outside and foreign view of the photographer. It will be presented for the first time on the occasion of the Science Festival 2019, in two parts, at the Espace des Sciences Pierre Gilles de Gennes (8 October - December) and at the Ecole Normale Supérieure (10-13 October).
Univers Poreux is the concretization in images of the diversity of our network with the participation of five laboratories working on different themes: the Solid-State Chemistry and Energy Lab, the Analysis and Modelling Laboratory for Biology and the Environment (LAMBE), the Institute of Porous Materials(IMAP), the Navier laboratory and the start-up Celescreen.
From one laboratory to another, from one research theme to another, Cécile Chabert takes us into the world of porous solids as she perceived it. A universe that goes beyond chemistry, biology, physics or mechanics, a universe that goes beyond the batteries, treatments or tests of tomorrow, it is an aesthetic universe that she shares with us.
This universe is echoed by that of the researchers through scientific images representative of their work, concrete but also containing its share of art.
This exhibition is therefore a dialogue, a dialogue between the photographer and the scientist, a dialogue between science and the image, a dialogue to which all young and old, initiated or not, are invited. For the universe of porous solids is in fact our universe.
Presentations (different series) :
From October 8 to mid-December - ESPGG 10, rue Vauquelin 75 005 Paris
From October 10 to the end of December - Ecole Normale Supérieure, Department of Chemistry, 24, Rue Lhomond 75005 Paris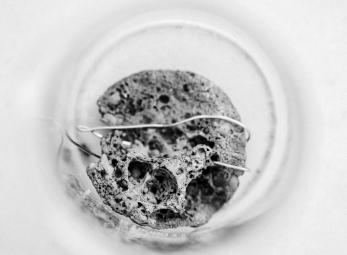 Cécile Chabert Photographie