Residential school 2020 by DIM Sirteq and Respore
02/07/2020
Come and put your project to the test during three intense days rich in discoveries!
DIM SIRTEQ and RESPORE are organizing the third edition of the residential school "valorisation" for doctoral students, post-docs, researchers and engineers, which will take place on November 3, 4 and 5, 2020 at the Domaine de St Paul.
Registration fees are paid by SIRTEQ and RESPORE for people belonging to the networks.
The purpose of this event? To raise awareness of the stakes, difficulties, interests and modalities of the creation of scientific start-ups.
On the program:
Raising awareness about the business world and the creation of companies.
Market study, strategy, negotiation and organisation
Study of the means of protection of intellectual property and their limits
In the morning, the basics of entrepreneurship will be discussed: building a network, finance, market research, business plan, negotiation, soft skills... In the afternoon, participants will listen to testimonials from various players, in particular start-up creators, who will share their experience.
Confirmed speakers :
Eric Langrognet, Centrale Supélec
Location
The residential school will take place at the Domaine de Saint Paul in Saint-Rémy-lès-Chevreuse (78470), and accommodation will be in the Domaine's hotel. An arrival on site is possible on November 2nd.
Registrations
Pre-registration requests should be sent before September 18, 2020 to the following address: sirteq@institutoptique.fr with a CV and a presentation page.
The event is free for members from SIRTEQ and RESPORE. Participants from outside SIRTEQ and RESPORE will have to pay for food and lodging expenses, amounting to approximately 350€, to be paid on site. The number of places is limited to 20 people.
Your pre-registration will be validated after agreement of the organizing committee and you will be informed by email of the validation of your pre-registration. This training will be validated by the doctoral schools.
Please distribute this information to doctoral and post-doctoral students who may be interested.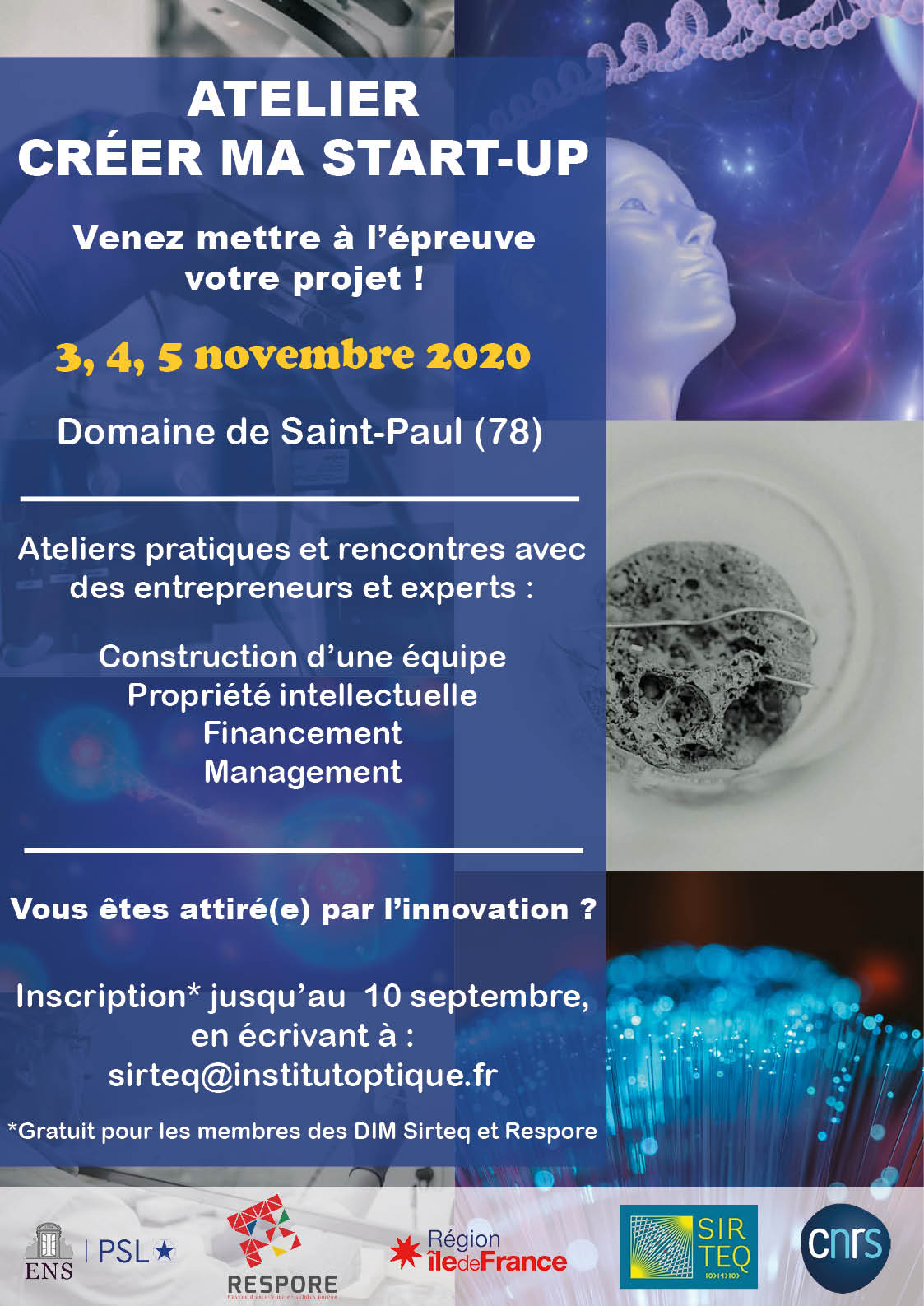 The organizing committee
SIRTEQ : Hasnaa El Ouazzani,Takis Kontos, François Marquier, Nicolas Treps.
Respore : Claire Galland-Zerpa, Christian Serre, Juan Pelta, Jean-Marie Tarascon, Cédric Boissière, Hervé Montigaud.